Plan Your Virtual Wine Tasting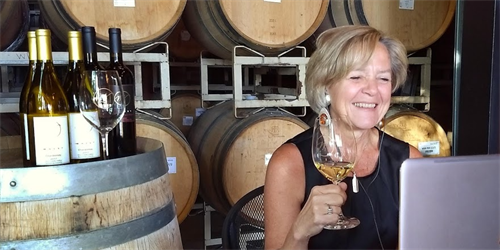 Ready to get started? Email us at info@westwines.com!
We are excited to help you build the perfect virtual wine tasting experience! We have a variety of tastings available with our tasting room staff or Winemaker Katarina. Invite your friends and family, both near and far, for a fun evening. Looking for the perfect way to show your team some well deserved appreciation? We will happily create events for your group, both large and small! 
Your tasting can easily be customized to fit your needs whether you would like to take a deep dive into a specific wine or have a more relaxed evening with a fun wine quiz. These are great for both new wine drinkers and any serious aficionados out there. Each shipment always include recipes and recommended cheese pairings.
Here are some of our favorite tasting line-ups!
Easily make a festive occasion more special by adding a bottle of our sparkling, Seafoam Blanc de Blanc!
West Trio: Featuring our 2018 Viognier, 2015 Tuscan Cuvée, and 2015 Cabernet Sauvignon, this features our three most popular by-the-glass wines.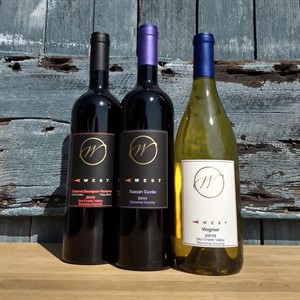 Festive Bundle Sparkling wine is the way to start a party! After that we explore the depth of a big Cabernet Sauvignon. This includes our 2016 Seafoam Blanc de Blancs and 2015 Cabernet Sauvignon.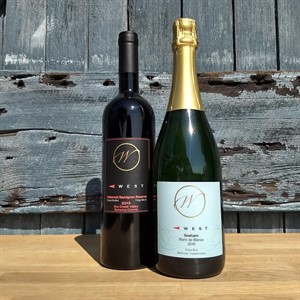 Vertical Cabernet Tasting: A side by side tasting so you can really understand the differences created by rain, water, soil and sun as you explore several years of Cabernet Sauvignon from the same vineyard. Start with our current release, the 2015 Cabernet Sauvignon, and travel back in time with the 2014 and 2013 Cabernet Sauvignon as well.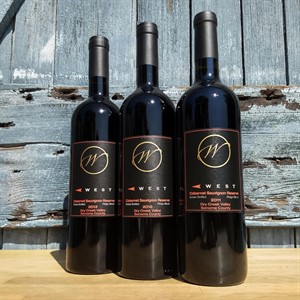 Ready to get started? Email us at info@westwines.com!