November 2020
Scandinavian Christmas in the tasting room
Date: Nov 27 - 29, 2020
Time: 11:00 AM - 4:30 PM
Location: 1000 Dry Creek Road
Cost: included in wine tasting fee of $25
Scandinavian Christmas in the Tasting Room
Our Scandinavian Christmas celebration will return this year! 
We celebrate the advent of Christmas with Glögg, cookies and Swedish Christmas decorations in our pavillon.

Things will look a little different this year, but the warmth and joy will be as wonderful as always. To help ensure physical distancing, reservations are required but we have tables available for groups of up to 6. We will be open Friday, Saturday, and Sunday from 11am-4:30pm.

Glögg is a hot mulled wine with cinnamon, cloves, ginger, raisins and more, traditionally served the four weeks leading up to Christmas in the Scandinavian countries. You will also find gifts for the holidays such as genuine Swedish Christmas decorations, the popular "tomte" the Swedish Christmas gnome, wine glasses, champagne flutes, wine glass charms and of course wine. We recommend West Seafoam, our sparkling wine, Late Harvest Viognier dessert wine as well as our vertical collection of our Cabernet Sauvignon Reserve and Magnum Reserve bottles.
Email us at info@westwines.com or give us a call (707) 433-2066 to reserve your table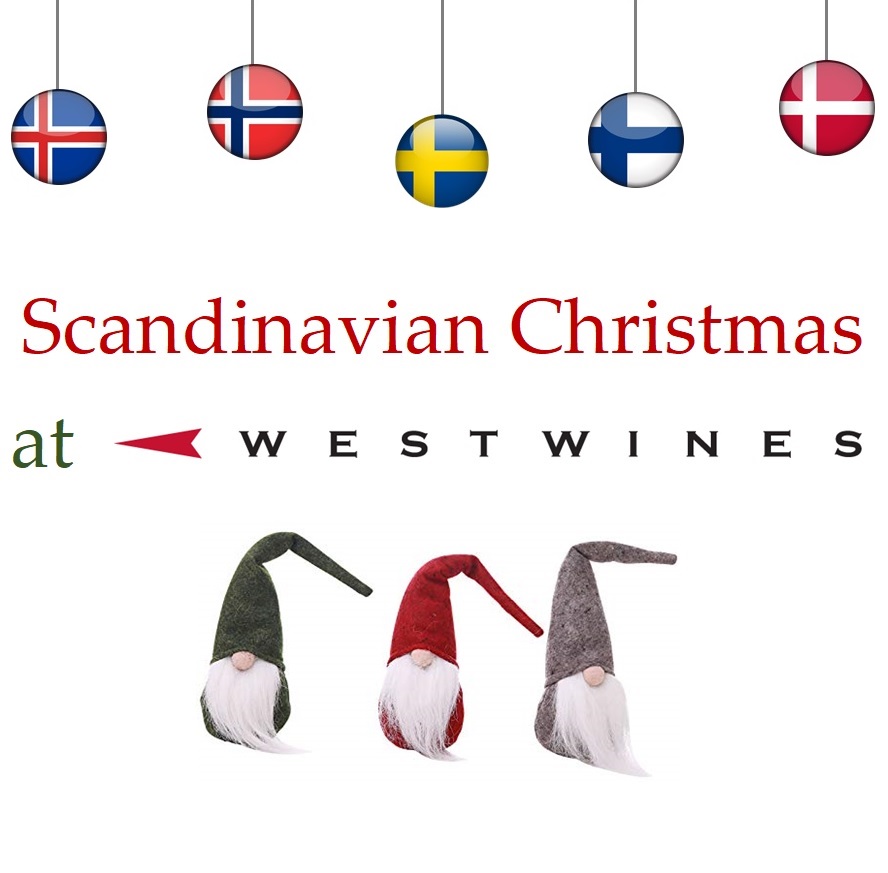 Wine & Vine Chat with Winemaker Katarina
Date: Sundays, November 1 - 29
Time: 4:00 - 4:15 PM PST
Location: www.facebook.com/westwines
Cost: Free
Join us on Facebook Live, 

Sundays at 4pm PDT!

We had so much fun this Summer with our white wines, we thought we'd showcase our reds this Fall!

Winemaker Katarina will be highlighting a new wine each week and it is the perfect chance to get your questions answered. We will discuss the inspiration behind the style, tasting notes, and even some recipes and recommended food pairings. Click here for our featured recipes.


No sign ups are needed, just remember to save the date!
Missed your favorite wine? Check our FB page for past videos!


Tasting Line-up
Nov 1 - *new release*  2014 Tuscan Cuvee
Nov 8 - 2013 Cabernet Sauvignon
Nov 15 - 2012 West Crest Cuvee
Nov 22 - West goes South
Nov 29 - Vertical Cab Collection; Older Vintages
Send us your questions through email and social media, or join us live in chat to explore your favorite West Wines even more.
Befriend Us on Facebook
Follow Us on Instagram
Tweet Us On Twitter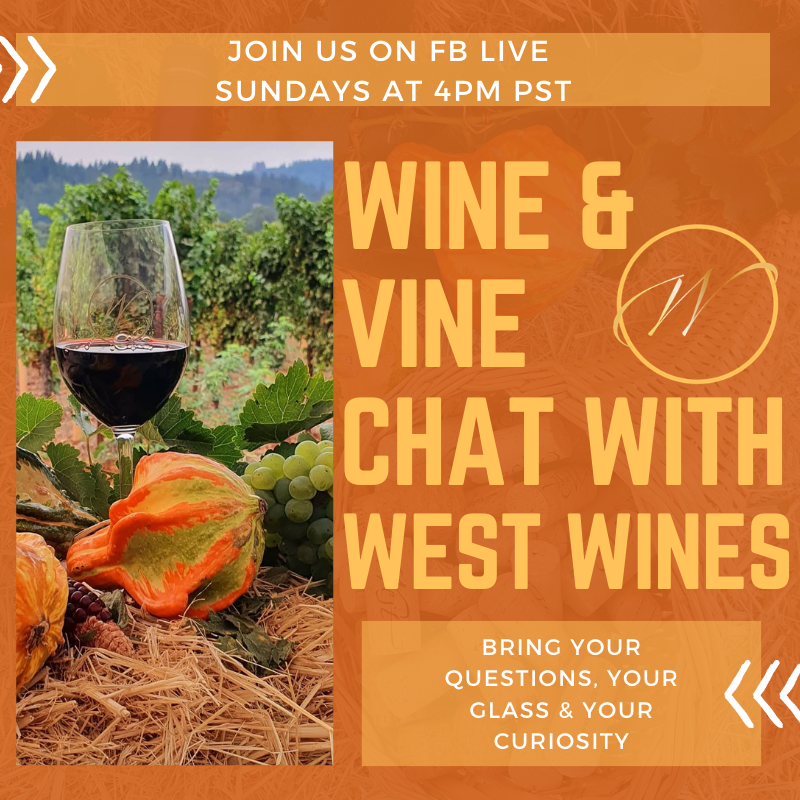 Self-Guided Vineyard Walks
Date: Available Year-Round
Time: 11:00 AM - 4:00 PM
Location: 1000 Dry Creek Road
Cost: Free to all visitors
Self-Guided Vineyard Walks
If you've admired the vineyard from our patio, but have yearned to explore the rows, the perfect opportunity is here!

Pick up a map from the tasting room and follow along with our self-guided vineyard tour, complete with facts about our year in the vineyard and what makes Dry Creek Valley the perfect place for our wines.